The acclaimed Edinburgh-born singer and songwriter Adam Holmes is one of the brightest stars on the UK roots music scene. An old soul on young shoulders, he combines masterful songwriting and a mellifluous, enchanting voice, mixing traditional and contemporary folk with his own brand of soul and Americana.
Twice nominated for BBC Radio 2 Folk Awards, his first two albums – Heirs And Graces (produced by John Wood) and Brighter Still - were nominated for Scottish Album of the Year Awards in 2014 & 2017. His latest album is Dreamweaver with songs co-written with Boo Hewerdine.
To book ADAM HOLMES for your event,
Contact John Barrow or call +44(0)7968 131737
See Adam's website HERE.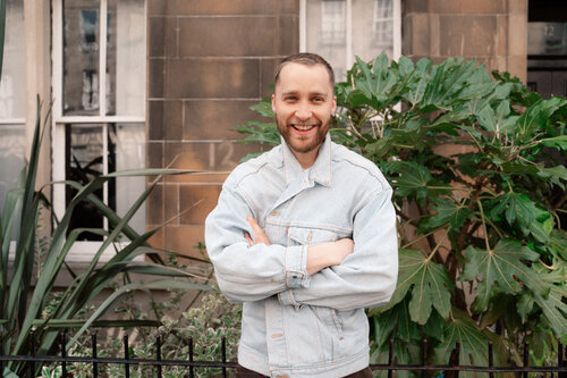 Adam's Diary 2022
JULY 2022
Wed 6 to Tue 12   available
Tue 26 to Sun 31 available
AUGUST 2022
Wed 17 to Tue 23   Edinburgh Festival Fringe, EICC
SEPTEMBER 2022
some dates available
OCTOBER 2022
Sat  1 to Mon  3   available
Tue  4   Cumbernauld, Lanternhouse
Wed 12 and Thu 13   available
Fri 14   Aberdeen, Blue Lamp
Sat 15 and Sun 16   available
Mon 17   Edinburgh, Traverse Theatre
Thu 27   Glasgow, CCA
Fri 21   Peebles, Eastgate Theatre
NOVEMBER 2022
Thu 10   Newcastle, Bobiks Theatre
Fri 11   Biddulph (venue tbc)
Sat 12   Bury, The Met
Sun 13   Sheffield (House Concert)
Sun 27   London, The Green Note
DECEMBER 2022
Wed 7 to Sat 10   available
Sun 11   Saltaire, The Live Room
Adam's Diary 2023
JANUARY 2023
Wed 11 to Tue 17   available
Wed 25 to Tue 31   available

FEBRUARY 2023
Wed   8 to Tue 14   available
Wed 22 to Tue 28   available
MARCH 2023
Wed   8 to Tue 14   available
Wed 22 to Tue 28   available
APRIL 2023
Wed   5 to Tue 11   available
Wed 19 to Tue 25   available
MAY 2023
Wed   3 to Tue   9   available
Wed 17 to Tue 23   available
Wed 31   available
JUNE 2023
Thu    1 to Tue   6   available
Wed 14 to Tue 20   available
Wed 28 to Fri 30   available
JULY 2023
Sat     1 to Tue   4   available
Wed 19 to Mon 31   available
AUGUST 2023
Tue    1   available
Wed   9 to Tue 15   available
Wed 23 to Tue 29   available
SEPTEMBER 2023
Wed   6 to Tue 12   available
Wed 20 to Tue 26   available
OCTOBER 2023
Wed   4 to Tue 10   available
Wed 18 to Tue 24   available
NOVEMBER 2023
Wed   1 to Tue   7   available
Wed 15 to Tue 21   available
Wed 29 and Thu 30   available
DECEMBER 2023
Wed   1 to Tue   5   available
Wed 15 to Mon 18   available