TONY McMANUS and JULIA TOASPERN
DATELINE
Thu 10 Feb 2022
---
UK tour
May and June 2022 >>>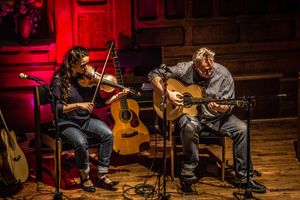 HAILED BY the late John Renbourn - who was no mean guitarist himself - as 'the best Celtic guitarist in the world' Tony McManus has been listed as one of the 50 transcendental guitarists of all time by Guitar Player Magazine.
Now booking UK dates for this remarkable
duo in May-June 2022.
We're still looking for gigs in this tour across the UK as well as Ireland, so please go here to see available dates.
Also booking now for UK, Ireland and European dates in June to November 2023.
All dates currently available, as of the dateline above.
Contact John Barrow or call +44(0)7968 131737.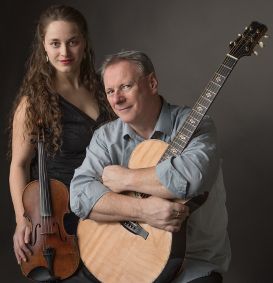 Go HERE to visit Tony's website and HERE for Julia's website.
Go HERE for numerous videos of Tony (solo) plus Tony and Julia performing.
MAY 2022
 
 
Th 5 TORRINGTON EX38 8HQ
 
The Plough Arts Centre (Gallery) 01805 624624
Fr 6 CALSTOCK PL18 9QX
 
Calstock Arts 01822 833183
Sa 7 NEWTON ABBOT TQ12 2ND
 
Abbotsbury Church (boxo awaited)
Su 8 PENZANCE TR18 4BU
 
The Acorn 01736 363545
We 11 LONDON SW15 1EU
 
Half Moon 0208 780 9383
Th 12 STOWMARKET IP14 1ET
 
The John Peel Centre 01449 774678
Fr 13 OXFORD OX1 3EY
 
St Michael at the North Gate

https://rb.gy/bfvorw

Su 15 EMSWORTH PO10 7DG
 
Old Sorting Office

https://rb.gy/bzwhdo

Mo 16 CROYDON CR0 1BD
 
Ruskin House

https://rb.gy/7b3uhp

Th 19 HALIFAX HX1 1QG
 
Square Chapel Centre For The Arts 0343 208 6016
Su 22 SETTLE BD24 9DZ
 
Settle Victoria Hall

https://rb.gy/bbupdi

We 25 NEWCASTLE ON TYNE NE1 1RQ
 
Tyneside Irish Centre 0191 222 0398
Fr 27 KELSO TD5 7DH
 
Old Parish Church 01573 228769
Sa 28 KILBARCHAN PA10 2JD
 
Kilbarchan Performing Arts Centre 01505 705325
Su 29 PAISLEY PA1 1YD
 
Bungalow Bar

https://rb.gy/xnabq3

Mo 30 STIRLING FK9 5AP
 
Stirling Rugby Club 01786 811627
Tu 31 GLASGOW G2 7DA
 
The Admiral Bar 0141 563 0454

JUNE 2022

 
 
We 1 EDINBURGH EH7 5AB
 
Ukrainian Community Centre

https://bpt.me/5333895

Fr 3 GLENBUCHAT AB36 8TS
 
Glenbuchat Hall 07899 994140
Sa 4 FINDHORN IV36 3TZ
 
Universal Hall

https://rb.gy/po3a75

Su 5 INVERNESS IV3 5SA
 
Eden Court Theatre (OneTouch) 01463 23 42 34
Tu 7 MONTROSE DD10 8NN
 
Montrose Playhouse (Cinema 3) 01674 830658.
Fr 10 CRATHES AB31 5JN
 
Crathes Public Hall 07815 41 27 42
We 22 BUNGAY NR35 1EE
 
Fisher Theatre 01986 897130
Th 23 YORK YO1 7PR
 
Black Swan Inn 01904 632922
Fr 24 REETH DL11 6QT
 
Reeth Memorial Hall 01748 884759
Sa 25 BURY
 
The Met Arts Centre 0161 761 2216

Th 30 CUMBERNAULD G67 2BN

JULY 2022

Fr  1 HAWICK TD9 0AE

 

 

Lanternhouse 01236 732887

 

Heart of Hawick (tbc)