To book Tim Edey for your event please contact ...
John Barrow at jb@stoneyport.uk
or call +44(0)7968 131737
---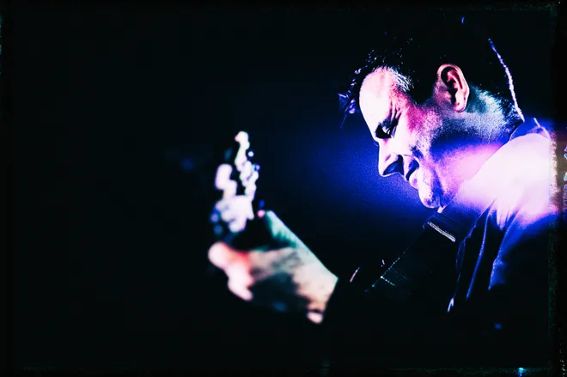 Tim Edey is a unique talent. There is no-one who has seen Tim playing anywhere in the world doubting that. He's established this fact time and again over the past nearly 20 years of touring and continues to do so.
So what does that mean in practical terms; what he can actually do? Tim plays a variety of instruments to an astonishing level of competence - in fact to put it like is really selling him far short of his musical expertise. Plus he has a 'photographic' memory for recalling music. His mind is best described as a 'musical super computer' linked to a remarkable sensitivity and empathy.
Tim plays guitar, accordion, banjo, piano/keyboards, ukulele, mandolin, bass guitar, bouzouki and whistles - all to concert standard! In addition to that the musical genres he straddles range from classical to classic pop via swing, gypsy jazz, world music, classic jazz, country (including flat picking blue grass) and all folk styles. In addition to all this Tim has a good singing voice!
To paraphrase the above, Tim is a highly entertaining musical genius added to which he has an uncanny knack of making audiences laugh – he is a natural presenter and raconteur and he has made frequent appearances on television and radio.
Artists Tim has worked with include the Chieftains, Christy Moore, Mary Black, Paul Brady, Sharon Shannon, Shane McGowan, Séamus Begley, Frankie Gavin, Altan, Ry Cooder, Eddi Reader, Steve Cooney, Julie Fowlis, Dougie Maclean, Capercaillie, Michael McGoldrick, Liam Ó Maonlaí, Ewan Vernal,  Natalie MacMaster, Mike Harding and many more.
WHAT THEY SAID ...
"My favorite guitarist in the whole world" Natalie MacMaster
"A ferocious passion and a beautiful tenderness, sensitivity, respect, understanding & love perpetually shines out through the music of virtuoso musician Tim Edey."
Sharon Shannon
​"Stunning!"
Aled Jones
​"Tim Edey plays a host of different instruments to a standard us mere mortals can only dream of. Listen and weep"- Jim Byrne, The Living Tradition magazine
Tim Edey: twice BBC Musician of the year, vis: ...
BBC ALBA/Scotland Best Traditional musician 2020
BBC Radio Two  Musician of the year 2012 (BBC R2 FOLK AWARDS)  
---
TIM EDEY diary and availability
You can assume that an uncommitted date in Tim's diary is an available date on which you can book Tim.
SEPTEMBER 2022
Fri   9   Lochcarron Village Hall
(Tim Edey guesting with Bruce MacGregor band at Blas festival)
Sat 10   Ballachulish Hall
(Tim Edey guesting with of Bruce MacGregor band at Blas festival)
Wed 14 Edinburgh FC
Fri 16   Welbourn, Lincs ... Banterfest
Sat 17   The David Hall , South Petherton
Sat 24   Tarland ... ROSS AINSLIE & TIM EDEY
    
OCTOBER 2022
Sat  8 to 15   CAPE BRETON, Celtic Colors Festival
Fri 28   Liverpool Philharmonic Music Room
Sat 29   Hereford Courtyard Arts
NOVEMBER 2022
Fri   4   Newcastle on Tyne, Tyneside Irish Cultural Centre
Fri 11   Mallaig Book Festival ... ROSS AINSLIE & TIM EDEY
Sat 12   Cockermouth, Kirkgate Centre
Sat 19   Stevington Guitar Show
    
DECEMBER 2022
Mon  5 to Fri  9   Aviemore, Costa del Folk Aviemore
2023 - 2024
dates and availabilities to be confirmed