---
CHRISTINE THE TEACHER and ANIMATEUR
In addition to her touring work, Christine is a highly-regarded educator, theatre performer and vocal coach and has a Master's degree in Ethnology and Folklore from Aberdeen University.

From this latter part of her 'curriculum vitae' Christine offers topics giving added value to her inclusion in your programme.

She can ...
* teach solo vocal masterclasses
* teach voice sessions
* teach large workshops
* form a scratch festival choir
* give a presentation of Plough Monday related academic paper.
* talk about developing projects in the community ... working in the leisure sector and formal education, care setting ... active learning

Goodness me, that's a pretty impressive list of add-ons!
Can you get by without Christine Kydd at your event!?
---
GIGS - dateline Thursday 13 July 2024
Christine's gradual recovery from cancer treatment is going very well .  She has been singing and  recording since late 2022 but, with self care in mind, not rushing back to work. However having said that, she has already in 2023, been singing and teaching in Italy, on-stage in Perthshire, Yorkshire and is due to appear at Kirriemuir Folk Festival in September 2023. With an exciting new tour with Fiona Ross in April-May 2024, Christine will be offering some new material and some old favourites. Look out for news of a project with Maggie's Centre, Dundee and some wee surprises too ...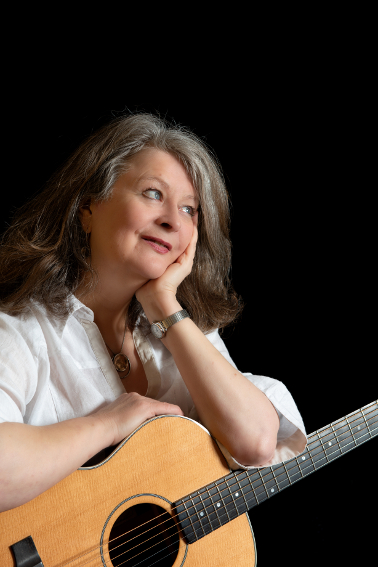 CHRISTINE KYDD
Christine Kydd is one of Scotland's leading award-winning singers and recording artistes.

Christine's repertoire is rich and varied, focussing on many of the great, well-known and popular songs of Scotland while containing an eclectic and entertaining mix of traditional and contemporary songs.

A typical performance is as likely to range from self-penned songs to songs by the great but sadly late Michael Marra or Bruce Springsteen to the Scottish 18th century poet Robert Tannahill (who wrote 'The Braes of Balquidder' which became the enormously popular song 'Wild Mountain Thyme') and the Muckle Sangs (the great Scottish narrative ballads).  

Christine's repertoire also contains songs of Robert Burns. She features on Linn Records major 12-CD collection, The Complete Songs of Robert Burns. Christine is on ...
Volume 1 solo (track 12) and also with Janet Russell (8), Rod Paterson (10)
Volume 2 solo (track 8) and with Janet Russell (13)
Volume 11 solo (track 18)
Volume 12

Interestingly, Christine's family tree includes the Burness family from North East Scotland, intertwining with Robert Burns' own family.

As a touring singer Christine has broadcast and recorded extensively both as a soloist and on a number of projects to produce some of the Britain's finest and often award-winning sounds, including singing in a duo with Janet Russell and with the groups Chantan, Calluna and Sinsheen. In April and May 2024 she will take to the road on tour in the UK with Fiona Ross, the Scottish singer now domiciled in Australia. This duo will be rather special - two terrific female singers with seriously top quality voices. What's not to like!? 

Christine is simply of the best singers around: blessed with a great, colourful and expressive voice - none of your subdued, monotonic droning here!  Engaging, warm, effusive and infused with wit and charm.
---