ASHARA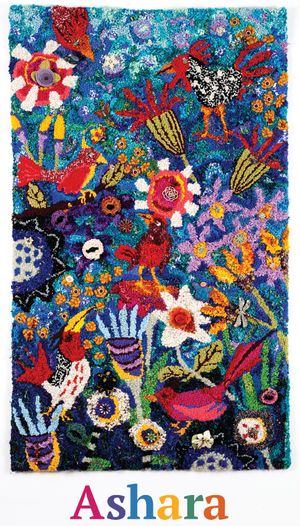 Contact John Barrow or call +44(0)7968 131 737
Having shown that the band's mix of nationalities and musical 'styles' works superbly well in their recent Scottish tour (encores, standing ovations and so on), this is now a proven wonderful musical collaboration between Canada, the Caribbean and Scotland.

Featuring, from Canada/USA (and strong hints of the West Indies)
Jason Wilson
Carl Harvey (Toots & The Maytals)
Marcus Ali, Vince Reel, Michael Shapinko, Laurel Tubman and Subrina Ward (Trinidad)
From Scotland
Ali Hutton (pipes), Jack Smedley (fiddle) and John Somerville (accordion).

The exact line-up in the future may vary depending on musicians' availability but it will be a line-up of 'quality'!!
JANUARY-FEBRUARY 2024
UK, IRELAND, EUROPE ... ALL DATES AVAILABLE
MARCH-DECEMBER 2024
WORLD-WIDE ... ALL DATES AVAILABLE
(but see below)
JULY-AUGUST 2024
CANADA, USA ... ALL DATES AVAILABLE
---
NEW ALBUM RELEASE
Jason Wilson & Ashara
Canadian two-time JUNO Award nominee, Canadian Reggae Music Award winner and best-selling author Jason Wilson and group release folk/roots album 'ASHARA' on September 29 via Wheel Records/Proper Music Distribution

'Jason Wilson & Ashara' celebrate with an album release concert at The Redwood Theatre in Toronto, Ontario, Canada on Saturday, September 30
"Ashara is a deeply personal and generational body of work, showcasing Jason's innate aptitude for storytelling through poetic lyrics and beautiful imagery"
***** (Stevie Connor, The Sound Cafe)

Definitively his most personal and generational work, Canadian singer, songwriter, two-time JUNO Award nominee, Canadian Reggae Music Award winner and best-selling author Jason Wilson and group launch their new folk/roots album titled 'ASHARA' on September 29, 2023, via Wheel Records/Proper Music Distribution.

STREAM NEW ALBUM, 'Ashara' HERE

'Ashara' (10 in Arabic, beautiful peace or ash tree) is Wilson's 10th album – yet a debut for this group. It will be released on digital, CD and vinyl formats and features nine songs: Seven originals, one cover (track 7) and an adaptation of a 1590s poem (track 9). Wilson provided lead vocals, acoustic guitar, piano, organ and accordion, joined by Carl Harvey on guitar, Vince Reel on drums, percussion and acoustic guitar, Laurel Tubman on backing vocals, Michael Shapinko on bass and Marcus Ali on Irish flute, whistles and saxophones (plus the string and horn arrangements).

ALBUM/CD RELEASE CONCERT DETAILS
Who: Jason Wilson & Ashara – Featuring Wilson on vocals, acoustic guitar and piano, joined by legendary guitarist Carl Harvey, saxophonist Marcus Ali, vocalist Laurel Tubman, drummer Vince Reel and bassist Michael Shapinko.

Special guest openers are 'The Two Bobs,' featuring Wilson and JUNO Award winner Fergus Hambleton.
Where: The Redwood Theatre, 1300 Gerrard St. East, Toronto, M4L 1Y7.
When: Saturday, September 30, 2023. Doors at 7:00 p.m.

Advance Tickets: HERE
Facebook Event: HERE

Album special guests include Scottish musicians Ross Ainslie and Ali Hutton on whistles, Jack Smedley on fiddle and John Somerville on accordion.
The string section: Jill Daley and Brielle Goheen on violin, Amanda Penner on viola and Alex McMaster on cello.
plus: Patrice Barbanchon on trumpet, Herbie Barnes on banjo and Tim Bovaconti on mandolin.

'Ashara' was produced by Jason Wilson and recorded at Canterbury Music Company, Toronto and Valley Road Studio, Stouffville, ON. It was mixed and co-produced by Mars Giammarco and Carl Harvey at Red Egg Studio, Bolton, ON and mastered by Noah Mintz at Lacquer Channel Mastering, Toronto.

SINGLES/VIDEOS:
First; "My Love Sings Like a Lintie".
Second; "An Evening in Paris in Cumnock Tonight"

ARTIST QUOTE:
Jason Wilson states, "The project was kick-started when I began to digitize my father's amazing 8 mm films that he began taking in Scotland in 1960. I wanted to go WAY back and explore the breadth and depth of my Ayrshire, Scotland roots and so 'Ashara' is my most 'generational' work. Sometimes I'm shocked at how personal the lyrics are, but it is about my family ... all the way back to my sixth-great-uncle John Davidson, who, as the "shoemaker" Souter Johnnie, appears in Robert Burns' legendary poem "Tam O' Shanter. It shouldn't surprise about how 'Scottish' or 'folky' this album sounds - I play way more acoustic guitar than I ever have (in DADGAD tuning thanks to the legendary Dick Gaughan!). In this sense, the 'sound' is really me, who I am!"
 
ASHARA TRACK LIST
1. Coal Dust Caruso, 4:06
2. An Evening in Paris in Cumnock Tonight, 4:31
3. The Shoemaker, 3:12
4. Coila, 3:33
5. Collier Gemmes, 3:29
6. My Love Sings Like a Lintie, 3:57
7. When an Old Cricketer Leaves the Crease, 5:41
8. Low Tide, 3:40
9. The Night is Near Gone, 4:43

TOUR DATES 2023
September 30 – Album/CD Release Concert, The Redwood Theatre, Toronto, ON.
November 30 – Stephen Fearing at 60, A Celebration, Hugh's Room Live, Toronto, ON.
TOUR DATES 2024
January 17-21, 2024 – Showcase at Your Roots Are Showing, Ireland's Folk Conference.
March 21-24 – Cayman Arts Festival, Cayman Islands.
April 27 – Nineteen on the Park, Stouffville, ON – with Ali Hutton (Scotland) and Lauren Collier (Scotland).
May 3-4 – Timmins Museum, National Exhibition Centre, Timmins, ON.

More dates in the UK, the South Pacific, western Canada and Ontario coming soon.

MORE ARTIST INFO
Jason Wilson is the protégé of renowned keyboardist Jackie Mittoo and has performed and recorded with UB40, Sly & Robbie, Ernest Ranglin, Ron Sexsmith, Amanda Marshall, Alanis Morissette, The Mighty Sparrow, Brinsley Forde (Aswad), Dick Gaughan and Messenjah.

Career highlights include JUNO nominated 'Jonah' with 'Jason Wilson & Tabarruk' (2000) and JUNO nominated and Canadian Reggae Music Award-winning solo 'The Peacemaker's Chauffeur' (2008).
(See full list of album releases below)

Also an award-winning author of 10 books, Wilson's most recent is 'Famous for a Time; Forgotten Giants of Canadian Sport' by Jason Wilson & Richard M. Reid (Dundurn Press, July 2023). Recently, he won The Ontario Historical Society's 2021-22 Joseph Brant Award for 'King Alpha's Song in a Strange Land: The Roots and Routes of Canadian Reggae,' and along with Hockey Hall of Fame's Kevin Shea, in 2016 he co-wrote best-seller 'The Toronto Maple Leaf Hockey Club: Official Centennial Publication, 1917-2017' and won New York-based Heritage Award for Outstanding Sports Research and Writing for 'Lord Stanley: The Man Behind the Cup' in 2006.

MEDIA QUOTES
Five Stars (Essential)! **** (The Sound Cafe, Quick Picks, September 2023).

"Wilson's sound is unique not only to him but to Toronto reggae in general given that The Six is the place most likely for Scotland to meet up with Jamaica, in a reggae frame of mind. That juxtaposition is at the heart of Wilson's music and sets the table for an inclusivity that takes in folk, classical music, Pibroch, folk-rock and bebop." (Lenny Stoute, BTW This Week, September 2023).

"Inspired by the rediscovery of his late father's 8mm films which captured life in Ayrshire during the 1960s, Ontario-based Jason embarked on a musical journey to explore his heritage and Scottish roots. In this sense, Ashara is a deeply personal and generational body of work, showcasing Jason's innate aptitude for storytelling through poetic lyrics and beautiful imagery." (Stevie Connor, The Sound Cafe / BluesandRootsRadio.com, August 2023).

The National Newspaper Scotland exclusive feature article, August 2023 ~ https://www.thenational.scot/culture/23749632.canadian-musician-explores-scottish-roots-connection-robert-burns/.

"…a beautifully crafted contemporary folk track brought to life by a talented collective. This enchanting song effortlessly weaves together elements of traditional folk and roots, infused with captivating Celtic influences." (Jenna Melanson, Canadian Beats, May 2023)

Toronto Guardian interview, "Five Minutes With" feature, March 2023 ~ https://torontoguardian.com/2023/03/toronto-music-jason-wilson/.

"This is a great single. Jason is a such creative artist - I'll definitely be giving it a spin!" (Jan Hall, Folk Roots Radio, CFRU FM and in syndication, January 2023).

"…this is soooo good – I will add it to Folk Routes. Say hey to Jason for me and glad he continues to create new and good music." (Tom Coxworth, Folk Routes, CKUA, January 2023).

"Great track!" (Eddie Joyce, Music Guru, Making Waves New Music Playlist and Irish Music Hour, January 2023)

"Wilson's sound is truly unique: where the reggae portion is freely brushed allowing space for wildly divergent inspirations such as Bach, Scottish Pibroch, folk-rock and bebop." (The Sound Cafe, December 2022)

"Jason Wilson is a master at combining the folk music he garnered from his Scottish roots with the reggae he learned at home in Canada." (Ian Croft, Rock-n-Reel Magazine: UK).

"Wilson and his band simply blow the mind with the way they so easily integrate many styles into one cohesive sound." (Mark Rheaume, CBC, Head of Music Resources)

"The more I listen to Jason Wilson…the more I am convinced that he's onto something that may just help broaden the spectrum of how people consider reggae music." (Douglas Heselgrave, No Depression: USA)

"You would have to separate him from so many of his contemporaries … treating listeners to smart, literate songs." (Errol Nazareth, The Toronto Sun). 

ABOUT JASON WILSON
Toronto (Downsview) native, GTA resident, singer, songwriter and multi-instrumentalist Jason Wilson is a two-time JUNO Award nominee, a Canadian Reggae Music Award winner, holds a PhD in History (University of Guelph) and is an award-winning, best-selling author.

Previously – all on Wilson's Wheel Records – he has released albums including …
'Tabarruk' by Tabarruk (1994)
'Dark Corners' (1998)
'Jonah' (2000, JUNO Award nominee)
'dREaD & BLUE: A Canadiana Suite' (2004) by Jason Wilson & Tabarruk
'The Peacemaker's Chauffeur' by Jason Wilson (JUNO Award nominee and Canadian Reggae Music Award winner) (2008)
'The Lion Rampant' (2013)
'Kailyard Tales' (Wilson and Dave Swarbrick) (2018)
'Perennials' (2016)
'Sumach Roots' (2019) 
---