A singer of grace and generosity, she's a commanding soloist, a brilliant harmony arranger, and an inspirational teacher (Karine Polwart).
I think her voice is superb… a great interpreter of song (Brian McNeill)
---
Scottish Traditional Music Hall of Fame inductee Christine Kydd is one of Scotland's leading, award-winning singer/ songwriters. With eclectic tastes, she is best known for her treatment of traditional and contemporary songs. Her solo set is as likely to include self-penned songs as the work of Marra, Springsteen, Hulett, Wellington, McVicar, Jacob, Tannahill and Reid.
Christine also sings the songs of Robert Burns, and features on several volumes of Linn Records collection The Complete Songs of Robert Burns. As a Burness from North East Scotland, she has family connections to Robert Burns's family tree.
A singer of traditional songs and ballads, she is an international traditionalist, her choice of songs rich and varied, but with a focus on the song culture of Scotland. A highly-regarded educator, theatre performer and vocal coach, she recently graduated with a Master's degree in Ethnology and Folklore.
She has toured, broadcast and recorded extensively both solo and on a number of projects to produce some of the country's finest and often award-winning sounds, including singing with Janet Russell, Chantan, Calluna and Sinsheen.
Her most recent CD Shift & Change (above) on Greentrax Recordings brings together the cream of Scotland's musicians and singers- Andy Shanks,  Innes Watson, Fraser Speirs,  Gillian Frame and musician/producer/engineer Angus Lyon.
---
Christine's ground-breaking recordings of Scots songs and harmony singing, whether in duos, trios or as a solo artist, stand out as favourites in my collection. As a performer, her warm inviting vocals and passion for the material draw even the uninitiated into discovering the riches of Scots song (Fiona Ritchie, Producer/host, USA NPR's The Thistle & Shamrock).
---
HAL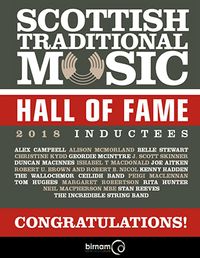 L OF FAME 2018

I'm thrilled to have the work I do recognised by Hands Up for Trad, many thanks to them. Huge thanks to John Barrow who catapulted me into this community many years ago. We are all very fortunate for the fantastic experiences, insights, love and friendship we find through our traditional music and song, and l am no exception. Through folk music, I've travelled, gained a Master's, recorded, taught, sung and shared, and much more, and the fun continues! Shift and Change is my new album to be released in 2019. Hope you enjoy it. Thanks to everyone who has helped me along the way. We need our songs now more than ever- keep singing!
---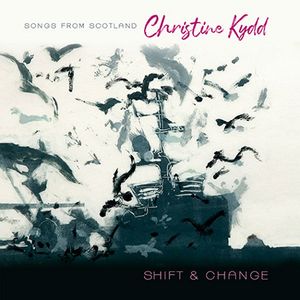 CD REVIEW: SHIFT and CHANGE
(Greentrax Recordings)
Scots singer and educator Christine Kydd was inducted last year into the Scottish Traditional Music Hall of Fame. This, her first "solo" album in years, demonstrates why. Sparely accompanied by a dependable crew including fiddler Gillian Frame, guitarist Innes Watson, Fraser Speirs on harmonica and producer Angus Lyon on keyboards and accordion, she mixes traditional and contemporary, pening with Michael Marra's Just Another Rolling Stone, harmonica providing a reedily mellow accompaniment; there's an American folk feel to her own Comin On Strong and she brings warmth to Braes o Balquhidder. The power of her singing really emerges in the unaccompanied Rue and the Thyme, her stately and measured delivery faintly echoing traveller singer Lucy Stewart, from whom it was collected, while, also unaccompanied, Jim Reid's setting of the Violet Jacob poem Halloween unspools in a suspended cameo of heartbreak. (The Scotsman ****: Jim Gilchrist)
SOUNDCLOUD Tracks from SHIFT AND change
---